From September, 10 Chinese students will start a half-year training program at the University of Szeged, Faculty of Law to study contemporary issues of law, international and industrial relations from a Hungarian and European perspective. This is one of the various fields of cooperation enshrined in an agreement signed by Gábor Szabó, rector of the University of Szeged and Yan Li, vice-rector of the Shanghai University of Political Science and Law (SHUPL).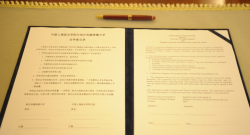 Opening doors to the East is a key element of the strategic development of our university with the objective of enhancing our foreign language programs and attracting students from abroad – said Gábor Szabó. The University of Szeged is home to the second Confucius Institute in Hungary and is therefore perfectly placed to become a gateway for a Hungarian – Chinese cooperation in education and business. Szabó also expressed his gratitude to István Ujhelyi, Deputy Speaker of the Hungarian National Assembly, for his role in initiating the establishment of a Confucius Institute in Szeged as well as facilitating contacts with SHUPL.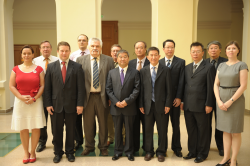 The delegation from SHUPL participated in a roundtable discussion hosted by the Faculty of Law where Imre Szabó, dean together with Krisztina Karsai, vice-dean and János Bóka – both of them coordinators for the Hungarian Chinese Exchange Program for the Faculty – outlined several proposals for the future of interinstitutional relations. The exchange program under the title "GATEWAY" is built on three pillars: besides student and teacher mobility various joint activities in research are also envisaged. The arrival of 10 Chinese students this autumn is only the first step in this process. On behalf of SHUPL, Yan Li vice-rector expressed his support for a comprehensive cooperation framework including joint bachelor and master programs. As a conclusion of discussions, Imre Szabó presented a commemorative medal to members of the SHUPL delegation in the hope of welcoming them again in Szeged next January on the occasion of the closing ceremony of the first six-month training program for students from Shanghai.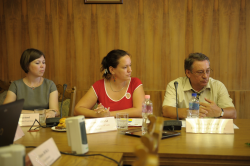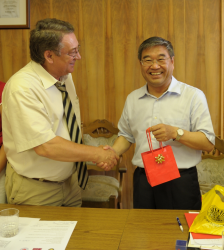 Fotos by Aurél Iványi