Among the main aims of the conference were the meeting of the researchers in person, discussion of the research topics and to define further cooperation and work. The meeting was chaired by Vice Deans Tatjana Lukić and Slobodan Orlović from the host university, and Vice Dean Krisztina Karsai from the Hungarian delegation.


Members of the Hungarian delegation started presentation of their research topics, aims and partial results. Tamás Antal spoke about reforms of the municipal public administration in Hungary between 1919-1929, followed by Erzsébet Csatlós about international law in the practice of the Hungarian Constitutional Court, Anett Gácsi and Zsanett Fantoly about the role of the confession of the accused in the different procedures, Márta Görög about commercialization of the right to name, László Heka about dual nationality in Hungary and in the post-Yugoslav states, Krisztina Karsai and Tatjana Lukic about the cross-border cooperation in criminal matters, Barnabás Kiss about harmonisation of fundamental rights in Europe, Edit Soós about the legal framework of cross-border and transnational cooperation in the Serbian-Hungarian border area, Anikó Szalai about developments in the law of treaties, Zsolt Szomora about constitutional requirements in criminal law and finally Ildikó Szondi and István Juhász about the number of Hungarian population in Vojvodina.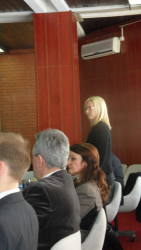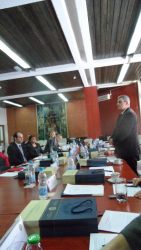 Serbian colleagues co-referenced the topics of their interests with enthusiasm: István Fejes on criminal law, Dušan Nikolić and Danica Popov on civil law, Sanja Đajić on public international law and Bernadett Bordás on private international law. The conference commenced a real dialogue thus even those researchers found partners who had not had earlier. Enthusiasm significantly increased owing to the personal discussions, the meeting was concluded with a tasty lunch in a fish restaurant. As a closing statement participants agreed that the cooperation should continue with a similar meeting in 2013, in Szeged, where results of the initiated research can be compared.