The legal system of the EU is not only growing due to the number of legal actions, but it is also going through a development in its quality throughout the functioning and deepening of the integration. This development does not only induce changes in the function or appearance of classical legal acts, but often leads to new forms as well. Until now, from many points of view, this has led to the lack of transparency in the EU system of sources of law and raised questions considering its systematic operation.
The new book of Dr. Mátyás CSÁSZÁR Ph.D., senior lecturer at the Department of Private International Law describes the system of institutional legal actions of the EU with the sake of completeness and with the intention of systematization, often using the tools of comparative analysis. The primary objective of the book is to examine how to systematize the EU's institutional legal actions, to make distinctions among the types and to distinguish among typical forms by using a fairly unified point of view. It also examines the question whether could be talked about a hierarchy among the sources of law of the EU, especially within the institutional legal actions.
The book describes the system of legal actions of the EU divided into three parts. The first part deals with the classification of the legal actions of the EU and their localization in the system of the sources of law. In the second part the institutional actions are analyzed, starting with the order before the Lisbon Treaty, going through the reform ideas in the Constitutional Treaty, and finally introducing the changes after the Lisbon Treaty came into force. The third part describes the appearance and development of the concept of the hierarchy of the sources of law in the Community and EU Law and with the proposals regarding to its introduction.
The book has a substitutive nature in international comparison by the gap filling theme and by the complete process of the topic. It can deservedly count on keen interest among the researchers and lawyers dealing with the EU law.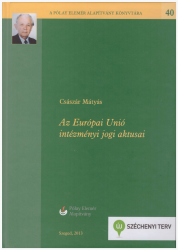 Details of the book:
Title: Institutional legal actions of the EU
Author: Dr. Mátyás CSÁSZÁR Ph.D., senior lecturer, Department of Private International Law, University of Szeged
Language: Hungarian
Publishing house: Pólay Elemér Foundation, Szeged
Release: 2013
Extent: 213 pages
ISBN: 978-615-5300-05-9