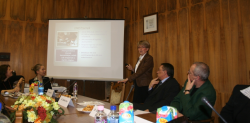 In January 2011, under the TAMOP-4.2.1/B-09/1/KONV-2010-0005 Project the University of Szeged, Faculty of Law, Department of Civil Law and Civil Law Procedure organized conference titled "Media Literacy and Protecting Child in Digital Era". This conference is associated with the name of Dr. Klara Gellen who is teaching Media Law at our Faculty. The event's aim was to discuss one of the tools of protecting children taking media changes and their negative effects into consideration. After opening speeches held by Prof. Dr. Imre Szabo, Dean of the Faculty and Prof. Dr. Mihaly Szajbely, Head of the Department of Media and Communication Science at University of Szeged, Faculty of Liberal Arts, Dr. Klara Gellen held her presentation titled "Where the Law Ends …" analyzing alternative tools, such as self- and co-regulation, furthermore media literacy in protecting children. She was followed by Prof. Dr. Eva Kosa, university professor whose presentation was about "Children in Info-communication Era – Psychological Characters at the beginning of XXI Century". The third presenter was Dr. Ilona Pocsik as the President of MediaSmart Hungary Ltd. and the Hungarian Department of Advertising Association who spoke about "Media Markets Tends. New Challenges and Duties in Protecting Minors". In part II of the conference, firstly Gizella Almasi held her presentation titled "Media Literacy – Media Education – Media Tudor" in order to emphasize the importance of teaching media literacy for children. Finally, we could hear Dr. Livia Ivasko and Imre Matyus speaking about "Getting Ready to and Preparing Students for Literate Media-Using". In sum, the high quality presentations provided lot of advices for everybody to take the appropriate measures in order to protect minors in digital era. The summary of the event in Hungarian language is accessible from here.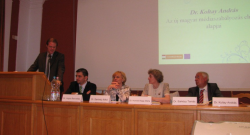 In May 2011, under TAMOP-4.2.1/B-09/1/KONV-2010-0005 Project another conference, "Media Law 2011" was organized by the University of Szeged, Faculty of Law, Department of Civil Law and Civil Procedure Law and the Academy Committee of Szeged. This event is associated with name of Dr. Klara Gellen as well. The conference was divided into two sections where Prof. Dr. Maria Homoki-Nagy and Prof. Dr. Eva Jakab, university professors performed the conference president's duties. First time, Dr. Tamas Sarkozy held his presentation about the system of the moral rights combined with the field of media. He was followed by Dr. Ildiko Sarkady who spoke about Copyrights and Media Law and Dr. Barnabas Hajas who analyzed how the media could damage fundamental rights, in particular from minors' point of view. At the end of the first section, we could hear Dr. Andras Koltay's presentation on freedom of expression and free speech. The second section was opened by Dr. Laszlo Majtenyi who focused on the relationship between the law-making and law-enforcement in light of practice. He was followed by Mihaly Revesz T. who spoke about the public service media and Dr. Judit Bayer who analyzed the rules on press. The fourth presenter was Dr. Gabor Polyak who provided information about the most relevant questions of media regulation. Finally, Dr. Klara Gellen held her presentation about audiovisual commercial communications concentrating on both the law and practice.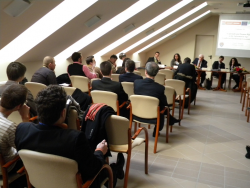 On February 25, 2012 the University of Szeged hosted a group of distinguished copyright scholars from at least 7 countries. The conference, which was organized by Péter Mezei, covered different aspects of the copyright and human rights. Presenters of the conference included (in alphabetical order) Eszter Bakos, Balázs Bodó, Enrico Bonadio, Mihály ficsor Sr., Anikó Grad-Gyenge, Bálint Halász, Gabriella Ivacs, György Kovács, Stefan Larsson, Nikita Malevannyy and Yifat Nahmias, Christiana Maria Mauro, István Molnár, Tuomas Mylly, Krisztina Stump, Imre Szabó, Pál Tomori, and Peter Yu. The program of the event is available from here. A detailed blog post on the events of the conference in English language is available from Peter Mezei's Szerzői jog a XXI. században blog.
A conference organized by Márta görög tried to initiate a scientific and professional conversation amongst every research area that supports innovation and technological renewal to approach the challenges dictated by innovation from a multidisciplinary perspective. Researchers presented their achievements in panel of social, life and natural sciences. The presenters discussed industrial property and copyright issues in the legal sub-panel. They have introduced the varying nature of several intellectual property tools that support innovative renewal. The programme of the conference is available from here (only in Hungarian).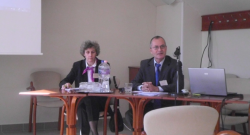 On May 18, 2012 Prof. Éva Jakab organized a multi-language conference on legal history and copyright law. Lecturers of conference included the several members of the IP Center, so for example Prof. Éva Jakab Éva, Prof. Mária Homoki-Nagy Mária, Klára Gellén, Márta Görög, Péter Mezei, István Molnár, László Papp and Eszter Bakos. Claudia Lydorf, Ansgar Ohly, Sándor Vida, Gabriela Koziol, Zoltán Végh, Levente Tattay, Tamás Nótári, Heinz Häller, Nóra Natália Orosz and Eszter Kaprinay delivered a lecture as well. For the full program of the conference click on the following link. A description of the conference is available from here (only in Hungarian).